So, Finally Samsung Galaxy S7 Series Smartphone's are released and Yes they are really impressive. Both device are now available for sale. Take a look on design and curves of Samsung Galaxy S7 | S7 Edge from Samsung's official Youtube channel here:
What if your next phone could take photos like a professional?
What if it worked in low light?
What if it gave you enough expandable memory to store all your pictures?
>> Buy Now!!
Important News for Galaxy Fans!!!
Samsung has launched Galaxy Note 7 Smartphone on August 2 in "7Unpacked 2016" event. So, you can check out Galaxy Note 7 Specs, price and release date details here.
Samsung has launch Galaxy S6 and Galaxy S6 Edge Smartphone last year and both flagships are exceptionally well in design as well in performance. The company has shown the world what a high end mobile is.  In the beginning of 2016, we all are just expecting a more stylish and premium flagship and Samsung has again proven to best. So finally, Samsung has announced Galaxy S7 Flagship. Samsung has launch both Galaxy S7 and Galaxy S7 edge . Now after successful launch of these mobile phone we are getting rumours that Samsung is preparing a Galaxy S7 Mini and Galaxy S7 Active Variant for April launch. It's going to be a 4.6 inch device and most probably return of Mini phones to Galaxy Lineup. Here we are going to talk about Specifications and features of Samsung's Galaxy S7 Flagship.
Samsung Galaxy S7 Series:

Bigger, better and Smarter Smartphone

ever!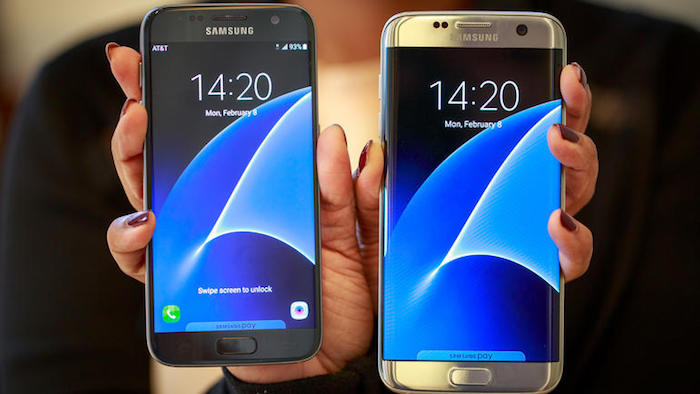 Book UNLOCKED GSM International Version here
Samsung Galaxy S7: Full Specifications
The Galaxy S7 is an evolution of the prior year's model, restoring design traits from the Galaxy S5 such as IP certification for water and dust resistance, as well as expandable storage. Samsung Galaxy S7 will have the most advanced specification and features. Let's take a brief look on what are the specifications of Galaxy S7. Now both Galaxy S7 and Galaxy S7 Edge Smartphone are launched. Let's check out complete specs of Samsung's latest flagship.
Model Name
Galaxy S7
Display
5.1 inch Display (1440 X 2560 Resolution)
(Super AMOLED, Force Touch with  TouchWIZ UI)
Processor
Octa Core Snapdragon 820,
Exynos 8890, 64 bit Chipset
Dimensions
142.4 X 69.6 X 7.9 mm, 152 grams
SIM
Nano SIM, Samsung Pay
Protection
Corning Gorilla Glass 5,
IP68 Water & Dust Resistance
GPU
Adreno 530, Mali-T880 MP12
~577 ppi pixel density
OS
Android v6.0 (Marshmallow OS)
RAM
4 GB
Memory
32 / 64 GB,
Micro SD up to 200 GB
Camera
12 MP f/1.7 primary camera, 26 mm
5 MP Front facing camera with Dual Video call
Networking
2G, 3G, 4G LTE, HSPA, GSM support
v4.2 Bluetooth, NFC, Wi-Fi, A-GPS, GLONASS
Sensors
Fingerprint, Retina Scanner, Auto HDR, Gyro, OIS,
Accelerometer, Barometer, Proximity, Heart Rate etc.
Battery
3000 mAh Non-Removable Battery
Colors
Black, Silver, Gold, White
Release date
March 11, 2016
Pre-orders
Book on Amazon
Samsung's latest flagship looks really high end with giving more feature and power to the users. Also from past couple of months we are hearing a great issue regarding micro SD card slot. So, now all clear that Micro SD card support is back with even better capability. Both Smartphone's will be able to support micro SD card up to 200 GB. You can also use DUAL SIM functionality incase you don't want to use micro SD card.

See: Best Cases and Covers here
" Samsung Galaxy S7 " : Next Big Thing!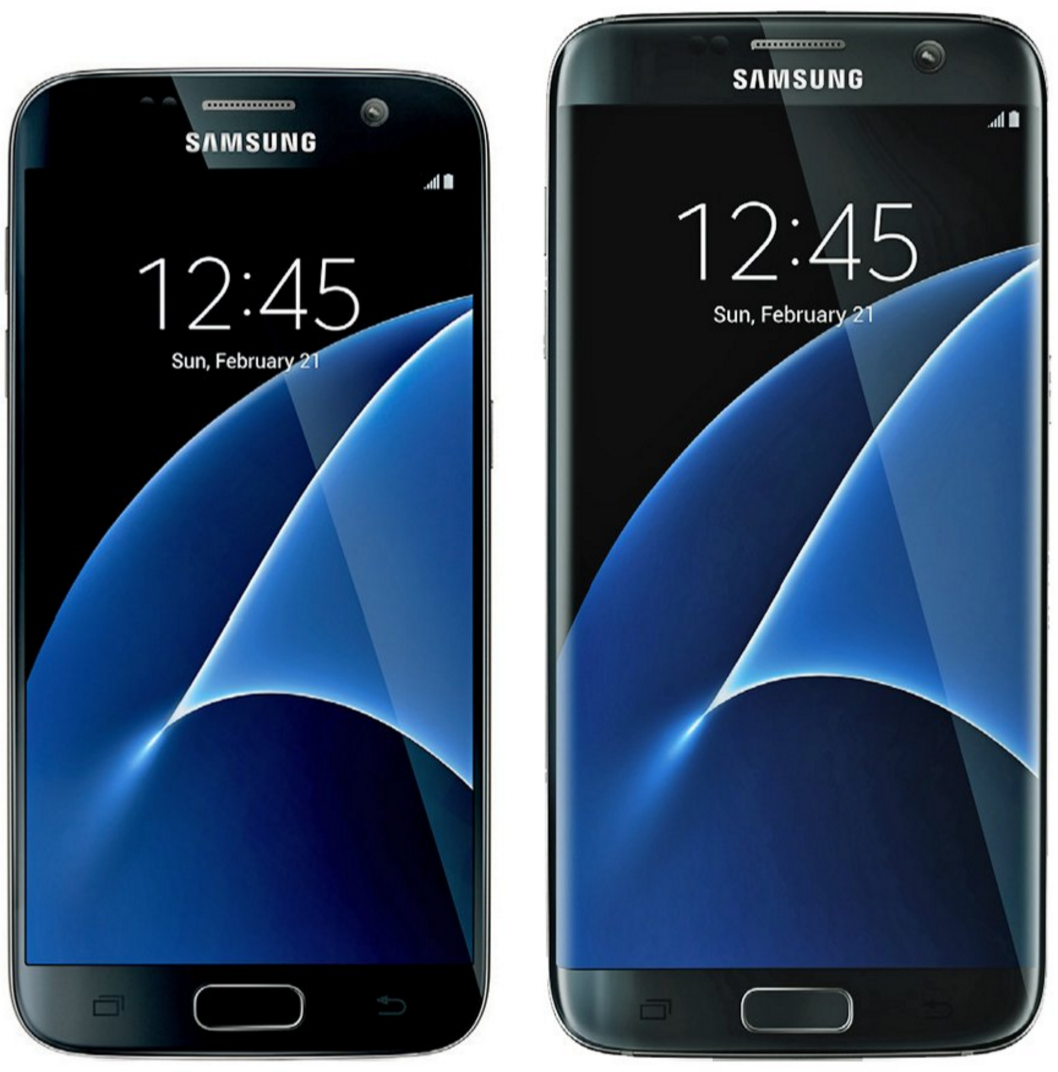 The latest Galaxy Smartphone comes with 7.9 mm thin ultra-slim design which is further protected by IP68 dust & water proof Standards. It also has Gorilla Glass 5 on the back panel. As per recent Unpacked event there will be four colour variants available. It  boasts an improved Force touch display with TouchWIZ UI which give you more customised interface over the phone.
Must See: Samsung Galaxy Note 6 Rumoured Specifications here
Samsung Galaxy S7
The Edge variant of Galaxy S7 series has elegant design with edges. They comes with really advanced hardware and software integration for better performance. Both phones are powered by Quick charging which enables users to get high charging (83%) in just 30 minutes. Although most of the specs for Edge variant is same but it has slightly upper hand over normal S7. Let's check out the Samsung Galaxy S7 Edge specifications below:
5.5 inch SUPER AMOLED
1440 X 2560 pixels, ~534 ppi
150.9 X 72.6 X 7.7 mm, 157 grams
Android v6.0 Marshmallow
Curved Edge display
Snapdragon 820, Exynos 8890 Octa
4GB RAM, 32 / 64 GB, micro SD up to 200 GB
12 MP primary camera
5 MP front camera
3600 mAh non-removable battery
Official Unboxing Video:
You've heard about the new Galaxy S7 and S7 edge. Now watch the Official Unboxing to see what's inside, and why it will make you rethink what a phone can do.
Processor:
Both phones are going to run on Qualcomm Snapdragon 820 as well as Exynos 8890 Octa processor.  The MSM8996 Snapdragon 820 processor runs 2.15 GHz Dual core chipset while Exynos 8890 Octa will have 2.3 GHz clocks per cycle. So, Exynos variant is more powerful as compare to Snapdragon. As per official announcement S7 flagship has 30% efficient CPU and 64% better GPU as compare to last year launched Galaxy S6.
See: Samsung GalaxyS7 vs. Apple iPhone 7: Comparison
RAM and Storage capability:
Samsung is manufacturing Samsung Galaxy S7 and Galaxy S7 Edge Smartphone's with 4GB RAM. It will have UFC 2.0 feature which will fasten your video recording experience with fast data storage. These phones will be available with 32 GB / 64 GB internal storage. You will be happy to know that GalaxyS7 flagship has micro SD card support up to 200 GB which is really great move by Samsung.
Display and design:
Talking about display sizes of these smartphone, Galaxy S7 boast a 5.1 inch SUPER AMOLED display and Galaxy S7 edge with 5.5 inch display. Both phones has QHD display with 1440 X 2560 pixels of resolution which is quite same as we have seen with its predecessors. The Galaxy S7 smartphone is going to have beautiful slick design (7.9 mm) and made of premium quality metal. It will have improved Force Touch TouchWIZ for better customisation.
Must Read:  GalaxyS7 vs. LG G5 [Head to Head] Comparison
Camera Specs & features
Now the phone is launched and we know the confirmed specs, yes it will not have 20 MP camera but you won't find better than this. Samsung Galaxy S7 comes with a 12 MP, f/1.7 camera sensors and 5 MP front camera. This looks like quite disappointing as 12 mega pixels is very less as many low end devices these days features comparatively 12-16 MP. But it's not like increasing pixels will help you to capture high quality images. The phone is going to have 12 Mega pixels f/1.7 aperture lens which offers large pixels and ability to capture high quality images even in low lights . The Galaxy S7 is capable of capturing [email protected], [email protected] with dual Video and HDR which is exceptionally great.
See: How much 24K Gold plated Galaxy S7 will cost you?
Samsung Galaxy S7 – What's New!
# Fast charging
The Galaxy S7 are going to have fast charging enabled batteries that can be fully chargeable in no time. The Next Samsung Galaxy will be able to get 0-100% of charging in just 90 minutes (wired) and 120 minutes for wireless charging. Both phone's are optimised to take really battery.
#Nano SIM Cards
Yes, next generation GalaxyS7 Smartphone is going to have Nano SIM cards, as we are moving towards next level. These phablets will be available in both single SIM as well Dual SIM.
# Large Batteries
The Galaxy S7 is going to have 3000 mAh non-removable battery while the S7 Edge variant will have 3600 mAh battery. Comparing this with Galaxy S6 (2550 mAh), this year we got far better Galaxy Smartphone. It is expected to offer approx. 70 hours of music play, 18 hours of video playback and a whole day (24 hours) talk time which is really impressive.
Availability On Amazon
So, Now you can book Galaxy S7 and Galaxy S7 Edge Smartphone's from Amazon.com. As per amazon listing company is going to deliver smartphone with in week. Presently only 32GB variants are available for bookings. The prices on amazon.com are too high, starting from $848 for normal S7 and goes up to $990 USD for S7 Edge. All four colors are available.
Samsung Galaxy S7 Release Date
If we look at the Samsung S flagship, the company has consistently launched Galaxy S phone every year.
| | |
| --- | --- |
| Model Name | Release date |
| Samsung Galaxy S3 | May 29, 2012 |
| Samsung Galaxy S4 | April 27, 2013 |
| Samsung Galaxy S5 | April 11, 2014 |
| Galaxy S6 & S6 Edge | April 10, 2015 |
| Samsung GalaxyS7 Series | March 11, 2016 |
Update: Samsung has now unveiled it's latest flagship at recent event held in Barcelona, Spain and Pre-orders are on ts peak. As per one of un-official report till now approx 17 million S7 variants have been booked. Customers are more attracted for Edge variants which is considerably exceptional. This year more than 60% of booked models are S7 Edge. If you are looking to book one for yourself then don't wait as Samsung is also offering a Galaxy VR with booking latest Samsung Galaxy Smartphone.
Must See: Sony Xperia X Performance vs. Samsung GalaxyS7
SAMSUNG GALAXY S7 Price list (Country-wise).
So, Now both Samsung Galaxy S7 and Galaxy S7 Edge smartphone's are launched and available. Both phone is available at price of $670 to $699 depending on your carrier. Below is the expected country wise price list for both S7 variants.
| | | |
| --- | --- | --- |
| Country | Galaxy S7 Price | Galaxy S7 Edge Price |
| Galaxy S7 Price in USA | 670 USD | 780 USD |
| Price in UK | 490 Pound | 560 Pound |
| Price in India | 49000 INR | 55000 INR |
|  Price in Europe | 620 Euro | 714 Euro |
|  Price in Canada | 945 CAD | 1090 CAD |
|  Price in Australia | 950 AUS | 1100 AUD |
|  Price in China | 4500 Yuan | 5200 Yuan |
| Price in Japan | 77026 Yen | 88000 Yen |
| Price in UAE (Dubai) | 2550 Dirham | 2990 Dirham |
The price listed above are based on the expectations, actual price can vary as per carrier and geographic location. Both device are listed at $28 and $33 USD monthly for two years contract on various carriers / retailers. So, what are waiting for… order a Galaxy S7 and get all the benefits as soon as possible because these offers are applicable for limited period of time.
Although the price for Samsung's latest Galaxy Smartphone are around 699 USD, you will find it much high on amazon for UNLOCKED GSM international version. All Galaxy Variants are available now starting at price of 771 USD.
April 2016 Update: We are also getting rumours that Samsung can launch a Mini as well as an Active variant of S7 soon. The Galaxy S7 Active is reportedly have a rugged design with shock proof body and most of its specs will remain same as normal S7. While Galaxy S7 Mini will come with 4.6 inch large display, 3GB RAM, Snapdragon 820 configuration. Both these variants are reported tor release in Q2, 2016.
Update: Now, question comes in mind "Is there is any Active, Mini or Plus variant as well ?". We are going to bring all rumours and updates for upcoming Galaxy S variant here. So, stay tuned with us. If you found any trouble in ordering Galaxy S7 or want to share your opinion / thoughts then feel free to leave your messages below. We would like to hear from our readers.  You may like to see few more Galaxy lineup phones which are rumoured to  launch soon this year:
So, before you leave make sure to give us a "Thumbs UP" by sharing us on social media from below social buttons. You can also join our Facebook fan page by liking us and get all updates of Galaxy S7 Smartphone instantly.