Every year Samsung and Sony release their flagship Smartphone's. This year Samsung and Sony have launched Galaxy S6 and Xperia Z5 Series Smartphone's respectively. Now, talking about their next year flagship phones of Sony and Samsung. Recently Samsung has announced Galaxy S7 series which has really awesome features. As per recent leaks of Sony we got to know that there is no Xperia Z6 this year. However company has launched a new Xperia series with Xperia X, XA and Xperia X performance models. Xperia X Performance is named to be biggest flagship by Sony this year as it features snapdragon 820 SoC. Here with Xperia X Performance vs. Galaxy S7, we are going compare both these top notch mobile phones.
Both of these mobile devices are announced now, Samsung Galaxy S7 flagship is now available for pre-orders while rumours suggest that Xperia XP will release after June, 2016. Both smartphone boast powerful specifications and features like fingerprint sensors, high quality display and lightening fast processor.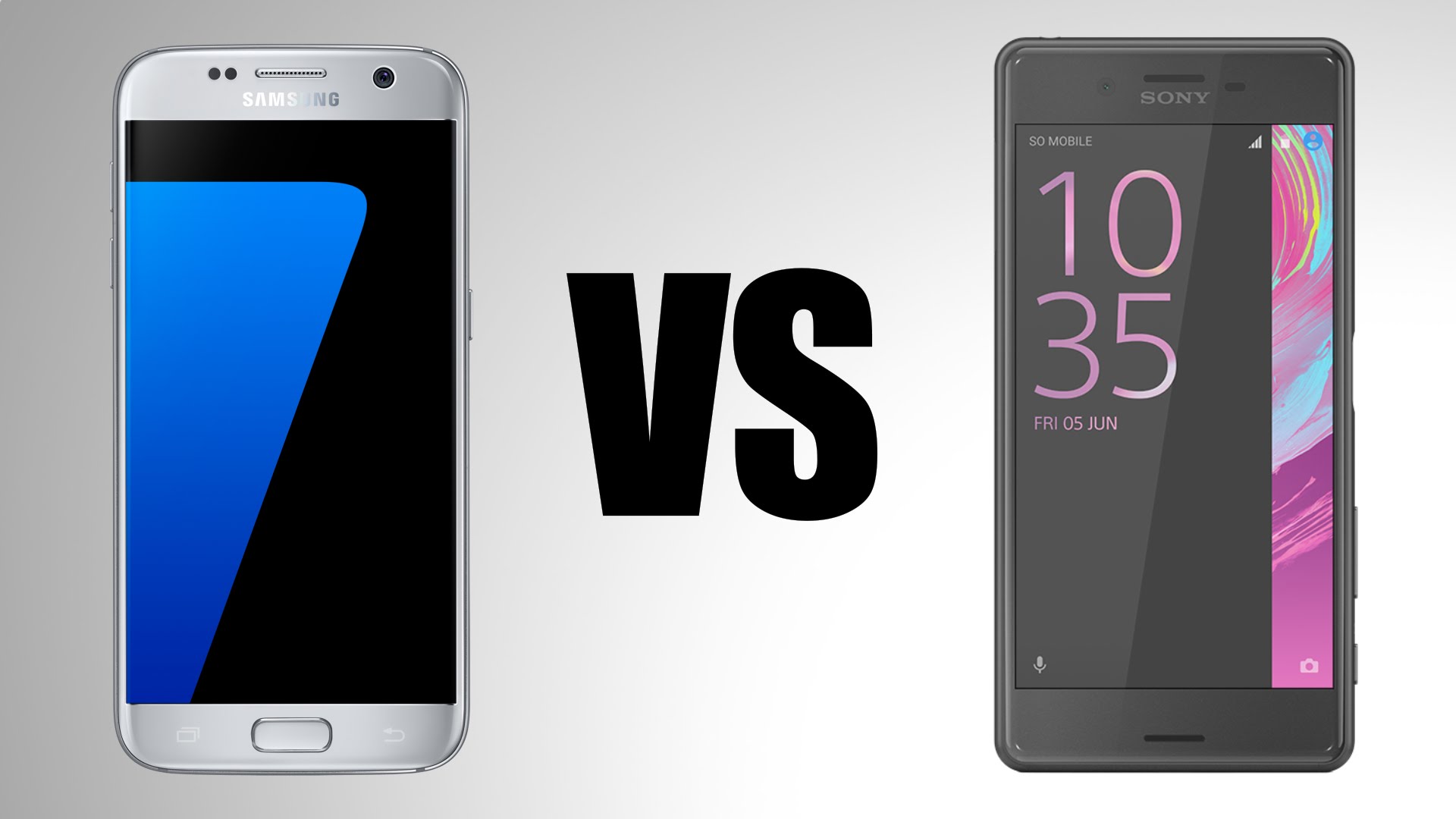 Also See: Apple iPhone 7 vs. Galaxy S7 Comparison
Sony Xperia X Performance Vs. Galaxy S7: Comparison
Talking from display aspect which is very first things that anyone sees in any mobile device. The Galaxy S7 Smartphone is going to have a 5.1 inch Super AMOLED display with 1440 X 2560 16 million colours and Sony Xperia X Performance will have a 5.0 inch large IPS LCD display with 1080 X 1920 pixels resolution. Last year Sony has already set benchmarks by becoming the first mobile company by release Xperia Z5 with 4K HD display but it seems a huge downgrade as the phone just Full HD resolution. While Samsung Galaxy S7 will have 1440 X 2560 QHD (2.5k resolution) display. At this point, you may think Galaxy flagship has an upper hand with having larger display and high resolution. All these Smartphone's will have 10 fingers touch and IP68 scratch and water resistance body.
Check out Hands on Xperia X and Galaxy S7 video from MWC 2016:
Galaxy S7 vs. Xperia XP: Performance matters
The Xperia X Performance flagship will have a 3GB RAM and runs on Snapdragon 820 chipset which is the latest processor by Qualcomm. The Galaxy S7 will have both Snapdragon as well as Exynos variants. Exynos 8890 is reported to have 2.5 GHz Cortex-53 which is more powerful (20-30% efficient) than Snapdragon 820. Both mobile devices will have Android Marshmallow operating system.
See: HTC ONE M10 vs. Galaxy S7
Xperia X Performance vs. Galaxy S7: Camera
So finally this year we are not going to see Z6, instead we have a new Xperia X lineup here. When it comes to camera, Sony is always been named as one best camera phone manufacturer in the world. The Xperia X performance comes with 23 MP f/2.0 24mm camera while Galaxy S7 has 12 MP f/1.7 mega pixels. Both camera's are capable of capturing high quality pictures with larger pixels. As per resent reports Samsung Galaxy S7 will be able to capture better pictures even in low light as it has f/1.7 aperture camera. So, Samsung still ruling the Xperia X series with having better camera this year.
Must Check: LG G5 vs. Galaxy S7 Head to Head!
Verdict:
So, clearly Samsung is winner here as it has more superior performance, camera and battery capabilities while at the other hand Xperia X Performance is also a good smartphone. We will update you soon with an comparison video of Xperia X performance vs. Galaxy S7 so that you can choose the best of these power packed devices.
So, hope you enjoyed reading us here and if you want to check Samsung Galaxy Note 6 rumours click on the link and before leaving make sure to like and share us by clicking below buttons. You can also join our facebook fan page to get more updates.